Nigeria's Kobocourse launches e-learning platform for content creators. 2 other things and a trivia
This line-up of stories will help you discover the latest happenings around the tech world, today.
1. Nigeria's Kobocourse launches e-learning platform for content creators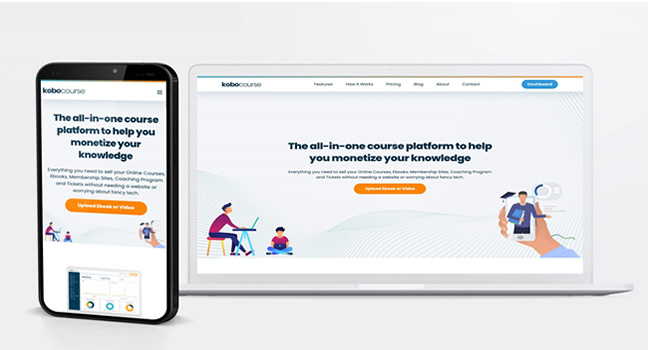 Nigerian edtech startup, Kobocourse, has launched a new venture, operating as a course-hosting platform.
The new product, which is built for the growing community of content creators and coaches across Africa, was founded by Keno Alordiah and Eva Alordiah.
According to the founders, existing alternatives were out of fashion and badly serving their user community.
Speaking on the development, Alordiah noted that the product seeks to serve content creators looking for more income streams with online courses.
He said: "There are more and more creators and coaches looking to add an extra stream of income online and selling their own online courses is a step in the right direction."
"We realised that the number one problem most African creators and online business owners face is having secure payment systems and course-hosting solutions. Sites like Teachable, Kajabi or Kartra are not inclusive of the African creator."
Tech Trivia: 1024 Terabytes is equal to 1 Petabyte, and can hold …… years of HD-TV video.
A. About 2 years
B. About 13 years
C. About 26 years
D. About 6 years
Answer: See end of post.
2. Standard Chartered awards $9k to 5 female-founded Kenyan startups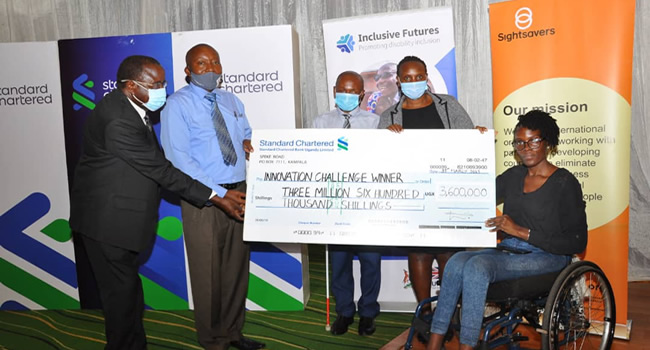 The Women in Tech incubation programme run by Standard Chartered Bank has awarded five female-founded Kenyan startups with KES1 million (US$9,000) each in grant funding.
The initiative, according to media reports, was in partnership with @iBizAfrica-Strathmore University.
The organisers noted that when the fourth cohort of the Women in Tech programme was launched virtually in October, it attracted 111 applicants.
However, ten startups were eventually chosen to take part, undergoing training, coaching and mentorship offered by the @iBizAfrica-Strathmore University network of key industry experts, faculty, business leaders, experienced mentors, and professionals.
The edition, this year, was centred on businesses that were tech-enabled or those that leveraged on emerging technologies such as IoT, robotics, augmented and virtual reality, cloud computing, drone technology and biometrics.
3. East Africa's equity company secures $100m fund for East African SME investments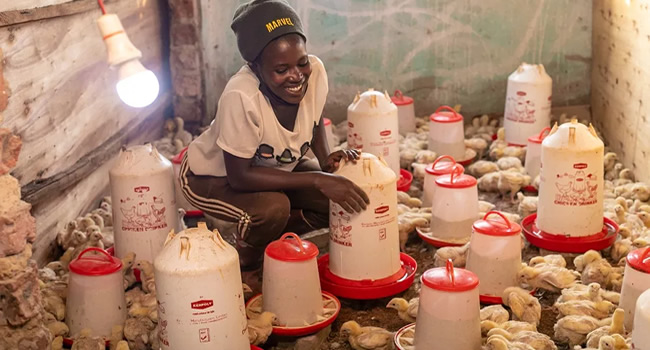 East African private equity fund manager Ascent has secured its Ascent Rift Valley Fund II (ARVF II) at more than US$100 million.
The secured fund is expected to be used to invest in small and medium-sized enterprises in East Africa.
The VC noted that ARVF II significantly exceeded its initial target of US$80 million, and that a final close of ARVF II is expected in December 2021.
READ ALSO: AlphaCode awards R2-m to support Fintech startups. 2 other things and a trivia
While the fund will provide funding to scalable SME businesses, it will also help to drive wider business and industrial development, particularly targeting the financial services, manufacturing, wholesale and retail trade and services, education, healthcare, and agro-processing sectors.
The new investment saw the participation of leading Africa investors such as Belgian Investment Company for Developing Countries and the UK's development finance institution CDC Group.
Others included the Dutch entrepreneurial development bank FMO, the International Finance Corporation (IFC), the Norwegian investment fund Norfund, and Proparco, a subsidiary of Agence Française de Développement (AFD).
Tech Trivia Answer: About 13 years
1024 Terabytes is equal to 1 Petabyte, and can hold 13.3 years of HD-TV video.
Large organisations use petabytes of storage to hold massive amounts of data. To store this amount of data at home would require about 1000 large home computers. People at home probably do not use petabytes, they would use terabytes (primarily for very large backups), gigabytes, megabytes and occasionally kilobytes.
One thousand petabytes make one exabyte.
Join the conversation
Opinions
How PDP's ONLY Hope Of Survival Is The NINAS Movement, By Ndidi Uwechue – The Maravi Post
For decades, observers had been raising an alarm that Nigeria was on the edge of a precipice and would one day plunge into catastrophe. These concerned observers had overlooked, or not known about the Caliphate Agenda for Nigeria. For, what someone seeking peace and democracy would describe as a "catastrophe" is actually "the best of news" for those intent on building an Islamic State within Nigeria, and even beyond, going right into the Sahel. The Caliphate Agenda is that the Fulani Koran should conquer everywhere, right up to "the sea" (Atlantic Ocean). For those in charge of this Islamization programme, it is a religious duty which they believe will bring them good rewards when they die and get to meet their Maker. They are therefore at peace with all the bloodshed that their Agenda will bring. They are only anxious should any thing try to prevent this dream of theirs from being realised.
Enter PDP, that is, the Peoples Democratic Party. PDP was in power at Central Government level for sixteen years, up to 2015. However it lost at those general elections and has since been on a downward slide, and unless PDP now reforms and truly starts to desire the people's welfare, its role and relevance as a political party ended in 2015. We do find that PDP still goes by the name of "political party", but that is an illusion or delusion. This type of delusion is quite common in Nigeria. Here are a couple of examples: there is a stretch of uneven ground, thinly tarred, that has no traffic lights, no pedestrian crossings, no pavement, just huge potholes, more like craters, yet Nigerians insist on calling it a "Road". There is a patchy-roofed building with no electricity, no water, no Science labs, no toilets, yet Nigerians insist on calling it a "School". In the same way, the PDP of today is basically a Social Club but of course, its members will insist that it is a "political party".
There continues to be much talk about the general elections scheduled for 2023. The winner has already been decided. It will be won in the same way as at pre-Independence when fraudulently skewed population figures were used (1952-53 Census) to bring about Arewa domination. In August 2021, the Northern Consensus Movement confidently announced that Northern Nigeria would determine the outcome of the 2023 presidential elections. Their leader Awwal Aliyu mocked, "Politics is a game of numbers and we have the numbers. We are 120 million in population from the North, then the Fulani have 40 million in population and if you put that together that will give you 160 million out of approximately 210 million population in the country… When you take 160 million out of 210 million, what is the balance? About 70 million. I cannot see how 70 million will beat 160 million…"
In essence, PDP and all Nigerians were being told that henceforth, Arewa, (ie the Caliphate), calls the shots. Going on, the last general elections of 2019 is the one that revealed that PDP had degenerated in power and status into being just a Club. The Buhari regime imperially removed Walter Onnoghen from his position as Chief Justice of Nigeria – but could PDP do anything about it? It remains debatable whether the All Progressives Congress (APC) won the 2019 elections, the subsequent Elections Tribunal contesting the results was somewhat farcical – but could PDP do anything about it? In Imo State, the people's choice of Governor, a PDP member, was openly removed – but could PDP do anything about it? The reality is that PDP has as much power now as a Chess Club has. It is a "political party" in name only. Neither does it have power as an opposition party. PDP will stay like this, before finally going into oblivion. 
The reason was explained earlier. There is an Islamization going on and PDP is not needed for that. It is APC that is spearheading it. For instance the APC Vice-President Osinbajo, a Professor of Law, and supposedly also a Pastor, in June 2019 when on an official visit to the USA showed his support for the Islamization programme by denying that Christians were being killed, to which American former official Frank Gaffney in amazement responded by describing Osinbajo as "He lies shamelessly — including this weekend in New York — about the anti-Christian persecution his government is at least tolerating and, at worst, enabling…" 
Should the Caliphate Agenda of Islamization and Fulanization of Nigeria continue, and even get success, the fate of PDP would be sealed. One only has to consider what the Taliban are doing in Afghanistan for clues. Clues can also be found in Nigeria itself. There is an ongoing vicious and horrific slaughter of indigenous peoples, mainly Christians, by Jihadist Fulani. Therefore, those PDP members who are unable to escape abroad in time, may meet the same sad end as some politicians in Afghanistan are getting: being beheaded.
PDP in the New South, ie Middle Belt and South, should have a thorough thinking session, minus ego and emotionalism, about the clear and present danger they are in. Just like their people are facing Islamization, land grab, and being slaughtered, SO ARE THEY! Just as the instrument that puts their people in an existential threat is the imposed and illegitimate 1999 Constitution, that 1999 Constitution is also what is bringing about PDP's powerlessness and eventual demise. 
All the signs needed to alert PDP that they are onto a loser if they go to Elections 2023 are there. PDP in the New South area would however be onto a clear winner should they choose to SIDE WITH THEIR PEOPLE! It is really as simple as that. If PDP were to become the CHAMPIONS of their people it would give PDP relevance and a new purpose. Thus it would give them power! The NINAS Movement is the vehicle PDP should therefore enter and join their people. Together they would Decommission their number one enemy, that sham 1999 Constitution. The process involves a Transitional Government so PDP would then be in good position to make inputs in the transitioning process.
To conclude, it is hoped that PDP has the moral and intellectual ability to look inwards and acknowledge that they have been emasculated and are now at the level of a Social Club. For more information on the NINAS Movement they can visit www.ninasvoice.org and contact the Secretariat.
Ndidi Uwechue is a British citizen with Igbo heritage from the Lower Niger Bloc. She is a retired Metropolitan (London) Police Officer, she is a signatory to the Constitutional Force Majeure, and she writes from Abuja.
Related
Release Date and Time Spoilers, Where To Watch Online Details
After four successful seasons of "SEAL Team", season 5 is rapidly increasing its fame among the watchers and watchers are also showing their interest in the series. SEAL Team Season 5 is currently running on the TV screens and along with this, the makers have released the first episode of the 5th season. Now, the second episode will show that what will be the future of the Bravo team in the enemy space.
Especially, their mission is in danger as the most important link is occupied by the enemies. Now, the current season is one of the most highly demanded and exclusive seasons of all time. Bravo was getting together with his family time like never before. On the other side, Ray was feeling like himself through therapy.
Shikizakura Episode 2 Release Date and Time, Spoilers, Preview, Star Cast, Watch Online Details
"SEAL Team" Season 5 Episode 2: Release Date
The genre of the series is action fiction and military drama which is created by Benjamin Cavell. Benjamin Cavell, Ed Redlick, Sarah Timberman, Carl Beverly, Christopher Chulack, John Glenn, David Boreanaz, Mark Owen, and Spencer Hudnut are the executive producers of the series.
CBS is the original network of the series and the first season was released on September 27, 2017. There was a total of 44 episodes in the first and second seasons each. While the third season was released with 20 episodes and the fourth one had 16 episodes. According to the sources, the fifth season will come with 14 episodes where 2nd episode will release soon but when we are going to share all the information about the series.
The first episode of the fifth season was released on October 10, 2021, and now, the SEAL Team Season 5 Episode 2 will release on October 17, 2021, and the title of the episode is "Trust, But Verify Part 2". Now, you can watch the episode on its original network, CBS. According to the sources, the episode will come with a mission in North Korea.
There is only one compromised and the Bravo soldiers need to find out the way to keep their cover. Along with this, they also need to make sure that Kwon doesn't end up revealing their position during the interrogations of North Koreans.
While, Blackburn said that if things will not go normal and as planned, Bravo may don't see the way of their home. They can just fight or die or be behind bars in North Korea. It all depends on their moves which is playing in one of the most dangerous countries. Well, we are sure that the depression of Ray will come between this cut-throat like before. All the things will be seen in SEAL Team Season 5 Episode 2.
"SEAL Team" Season 5 Episode 2: Time and Where To Watch
Now, the fans can watch the episode on October 17, 2021, at 10 PM ET. The first half of the season consists of 4 more episodes. So, we can expect our Sunday more interesting as SEAL Team will come on every Sunday with the latest episode. On the other side, you can watch these episodes on CBS official website and Paramount+.
Shikizakura Episode 2 Release Date and Time, Spoilers, Preview, Star Cast, Watch Online Details
Today, we are going to talk about one of the most famous Japanese anime television series named Shikizakura. The series will be releasing its second episode very soon. So, it is a new Japanese Anime Series that released a single episode recently but gained lots of popularity from the audience.
Now, the makers are ready to give a very grand release to Shikizakura Episode 2 and all the fans who watched the previous one are eagerly waiting to watch the upcoming episode as well. The series has been produced by Chukyo TV and animated by a very famous animation studio Sublimation.
Shikizakura Episode 2 Release Date
Let us also tell you that the series has been direct by Gō Kurosaki along with a chief director Shinya Sugai. The series has been premiered on 10th October 2021. Not only this, but the makers have also revealed that the series has 12 episodes in the first season.
Along with it, if you are searching to know the name of the writer then the amazing series has been written by Naruki Nagakawa. The makers give some mind-blowing characters in this brilliant series. We are providing almost all the information about this amazing series because we know that everyone searching to know about it.
Shikizakura Episode 2 Star Cast Details :-
Talking about the characters who appear in this brilliant series then some names are given below.
Kakeru Miwa Voiced by: Yūdai Noda
Ōka Myōjin Voiced by: Miho Mashiro
Kippei Nagatsu Voiced by: Daisuke Nakamoto
Ryō Hattori Voiced by: Shōto Mizukami
Kaede Naruse Voiced by: Eri Sakazaki
As everyone already watched the first episode of the series and everyone is just keenly waiting to see the further story in which everyone will get perfect answers for their questions. Already the previous episode created a very huge buzz on social media in which everyone just waiting to see the upcoming one to get to know what will happen next.
Shikizakura Episode 2 Spoilers, Preview
Let us tell you that the makers have already scheduled the release of the upcoming series. If you want to watch this series then you just need to wait till 17th October 2021. Yes, the much-awaited Shikizakura Episode 2 will be releasing this Sunday at 1:55 AM on ANIPLUS & HIDIVE.
You can also stream the full episode online on Anime Digital Network & Bilibili TV. It seems that the makers will give weekly releases to this brilliant series and everyone will watch the upcoming episode every week. So, stay connected with us to know more information related to the series.