Nigerian Army buries COAS, Attahiru, six other victims of plane crash in Abuja
The Nigerian Army, on Saturday laid to rest, the late Chief of Army Staff (COAS), Ibrahim Attahiru, and six other senior officers in Abuja.
The late COAS, alongside other senior officers, died in an air crash on Friday, while on an official trip in Kaduna State.
Although the military has released statements on the crash, neither the Airforce nor the Army has given full details of the occupants of the ill-fated aircraft.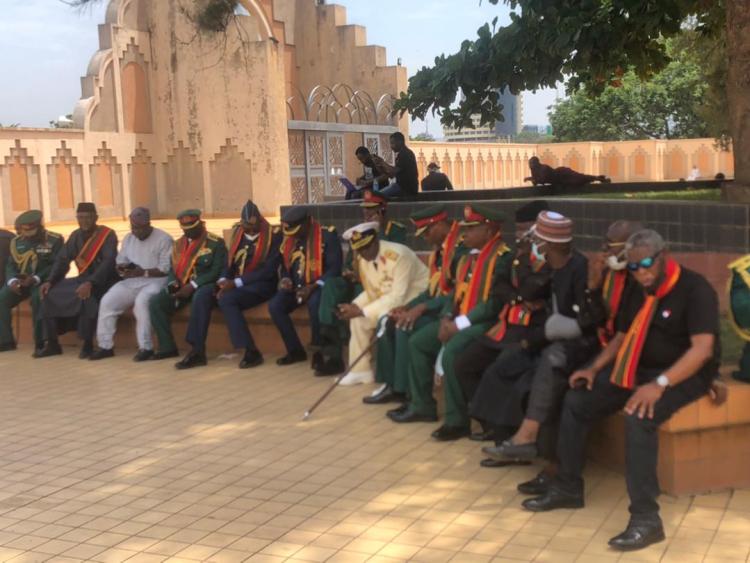 Attahiru, born in Kaduna on August 10, 1966, was a major general before his appointment by President Muhammadu Buhari as COAS in January 2021, after the sack of Tukur Buratai, a lieutenant general.
Also, senior officers arrived the national mosque ahead of the funeral prayers, which was earlier slated for 10 am but later moved to 12.30 pm.
READ ALSO: Gen.Attahiru, others' death regrettable – Northern govs
Before his appointment, the late army major, was the General Officer Commanding 82 Division of the Nigerian Army, Enugu and was at a time the Theatre Commander of the Operation Lafiya Dole until 2017 when he was redeployed.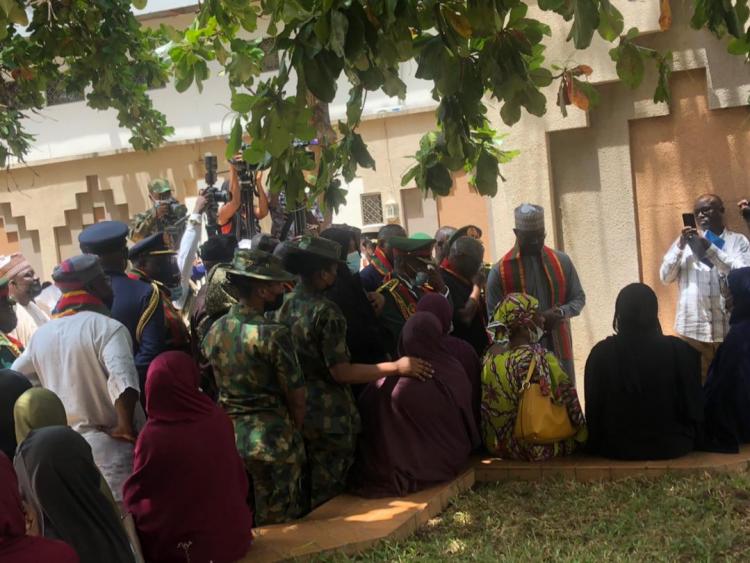 He barely spent four months in his new role before the shocking news of his sudden demise.
Meanwhile, the venue for the Church Service was changed from National Christian Centre to Nigerian Airforce Protestant Church, Bill Clinton Drive Airport Road in Abuja, while the arrangement for the National Mosque remained the same.
The internment took place at the National Military Cemetery, Abuja, as the time for the final interment prayer was shifted from 10 am to 12:30 pm.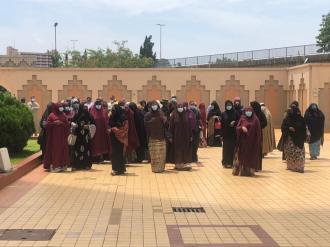 Guests were still trooping into the premises of the National Mosque, as the Wife of the late Army Chief, Fatima Attahiru, arrived the National mosque, flanked by friends and relatives.
Meanwhile, Army spokesperson, Mohammed Yerima, in a statement on Saturday morning, said both the mosque and church services would hold simultaneously.
Join the conversation
Opinions
Renewable Energy and Bottom-up Decentralization in Morocco – The Maravi Post
By Yossef Ben-Meir, Marrakech
The Kingdom of Morocco is a place of hope and promise of honest attempts to make strides commensurate with the humanistic journey. It recognizes in its Constitution, laws, policies, and programs that community participation is the essential ingredient for achieving optimal outcomes, including sustainability and ever-deeper satisfaction among the people.
The premise of the nation's family code is rooted in not just centuries but millennia, calling for justice and equity in regard to women and men and our gender-based experiences. Morocco has also determined—based on its own historically informed outlook, but also from lessons around the world drawn over time—that concentrating the power of decision-making and control over the affairs that matter the most to people ought to rest among them and in the public administrative tier closest to them. This is also a matter of recognizing human dignity: distant determinations which are imposed are rarely as appropriate as those that people make for themselves and their families alongside their neighbors and community members.
The national commitment for renewable energy is also among the nation's flagship efforts for a society that lives in balance, not just with each other as a diverse people but also in regards to the relationship with the natural environment. Morocco's global noteworthy commitment to renewable energy, backed by financial and political will, is indeed inspiring. It is part and parcel of Morocco's transformational intent in the other vital sectors of society and growth.
Nonetheless, as incredibly major as the country's opportunities are, the difficulties and inadequacies of their implementation can, at times, be stark and real. Morocco deserves enormous credit for its honesty. One need not look any further than the Special Report for the New Development Model (spearheaded by H.M. the King of Morocco) for the truth in regard to both the promise and its painful lack of fulfillment, concluding with the urgency to chart a recalibrated course of action.
The national commitment to decentralization—or regionalization—that is captured in Article 1 of the Constitution is essential; it provides a system by which localities can identify and implement related projects in keeping with their own priorities. Such community movements occur, particularly in partnership with public and private sectors, the more these channels of cooperation in reaching decentralization can be effective.
Decentralization will remain stalled or will flourish to the extent that communities comprising the country's municipalities are vibrant and energized in their collaborative course, implementing the development they most seek. The unsatisfactory level of community actions in this regard is the primary reason that decentralization is not providing an empowering structure and necessary difference for the country.
Renewable energy projects, no matter their impressive prominence even with Morocco's sincere dedication, has not been integrative of community voices, evaluations, and, arguably, benefits—in a manner felt by the local people.
The High Atlas Foundation and its domestic and international multi-stakeholder partners all hold high hopes and expectations for Morocco's commitment to decentralized renewable energy. They are taking the course that we must first provide opportunities for harnessing empowerment among intended beneficiaries and also engage in participatory planning of initiatives that they most want. We will then see areas where integration of renewable energy can take place within the pathway to development determined by the communities.
As in all genuine, empowering local movements, it begins with an invitation by the community members expressing their desire to fully engage and give the time and energy needed to achieve successful outcomes. Many invitations in our program's experience are forthcoming, and we decided to focus in the Youssoufia province with a village community in the Jnane Bouih municipality because of circumstances that they face, including severe scarcity of water and evident vulnerability to the impacts of climate change.
Women and men prioritized clean drinking water and a nursery of different endemic fruit-bearing trees and medicinal plants as part of the fulfilling future that they seek. As of today, with the initial phases of empowerment workshops implemented, the registration of their cooperative, and a source of sweet and nourishing water found at a depth of 200 meters, we remain steadfast in the completion of their individual and collective dream.
These local development experiences, viewed comparatively and in the aggregate, reveal the commonality of needs: the difficulty of accessing resources to create change, the gender-based differences in objectives, and the desire to remain in rural communities and not migrate to cities for the sake of bread alone. Experiences examined in these and in other informative ways can actually be helpful in reforming policy. The power of decentralization is not only in its concentration of capacity among the people who drive their own futures and possibilities but also in its ability to bring forward new approaches and policy frameworks that are more commensurate with what people actually want and pursue.
Our experiences in Youssoufia and elsewhere are, in fact, revelatory in that they spotlight the adjustments and programs that can more effectively release the endless energy that people have for improving their lives. The Youssoufia experience is about the immediate needs of its residents. But, it is also about understanding the needs that transcend the countryside and that, when sincerely listened to, can bring about laws backed by resources ushering in the Moroccan promise for all its people.
Dr. Yossef Ben-Meir is president of the High Atlas Foundation in Morocco.
Related
WHO: Global health community prescribes climate action for COVID recovery – The Maravi Post
Based on a growing body of research confirming numerous and inseparable links between climate and health, the World Health Organization's (WHO) COP26 Special Report on Climate Change and Health spells out that transformational action in every sector, from energy, transport and nature to food systems and finance is needed to protect people.
"The COVID-19 pandemic has shone a light on the intimate and delicate links between humans, animals and our environment", said WHO chief Tedros Adhanom Ghebreyesus. "The same unsustainable choices that are killing our planet are killing people".
An urgent call
WHO's report was launched at the same time as an open letter, signed by over two thirds of the global health workforce – 300 organizations representing at least 45 million doctors and health professionals worldwide – calling for national leaders and COP26 country delegations to step up climate action. 
"Wherever we deliver care, in our hospitals, clinics and communities around the world, we are already responding to the health harms caused by climate change", the letter from the health professionals reads.
"We call on the leaders of every country and their representatives at COP26 to avert the impending health catastrophe by limiting global warming to 1.5°C, and to make human health and equity central to all climate change mitigation and adaptation actions".
Fossil fuels 'killing us'
Both the report and open letter come as unprecedented extreme weather events and other climate impacts are taking a rising toll on everyone.
Heatwaves, storms and floods have taken thousands of lives and disrupted millions of others while also threatening healthcare systems and facilities when they are needed most, according to WHO.
Changes in weather and climate are threatening food security and driving up food-, water- and vector-borne diseases, such as malaria, while climate impacts are also negatively affecting mental health.  
"The burning of fossil fuels is killing us. Climate change is the single biggest health threat facing humanity", states the WHO report. And while no one is safe from the health impacts of climate change, "they are disproportionately felt by the most vulnerable and disadvantaged".
10 Priorities to safeguard the world
Commit to a healthy, green and just recovery from COVID-19.
Make COP26 the 'Health COP', placing health and social justice at the heart of discussions.
Prioritize climate interventions with the largest health-, social- and economic gains.
Build climate resilient health systems, and support health adaptation across sectors.
Transition to renewable energy, to save lives from air pollution.
Promote sustainable, healthy urban design and transport systems.
Protect and restore nature and ecosystems.
Promote sustainable food supply chains and diets for climate and health outcomes.
Transition towards a wellbeing economy.
Mobilize and support the health community on climate action.
Climate actions far outweigh costs
Meanwhile, air pollution, primarily the result of burning fossil fuels, which also drives climate change, causes 13 deaths per minute worldwide, according to WHO. 
The report states clearly that the public health benefits from implementing ambitious climate actions far outweigh the costs. 
"It has never been clearer that the climate crisis is one of the most urgent health emergencies we all face", said Maria Neira, WHO Director of Environment, Climate Change and Health.
"Bringing down air pollution…would reduce the total number of global deaths from air pollution by 80 per cent while dramatically reducing the greenhouse gas emissions that fuel climate change", she pointed out.
Dr. Neira added that a shift to more nutritious, plant-based diets "could reduce global emissions significantly, ensure more resilient food systems, and avoid up to 5.1 million diet-related deaths a year by 2050".  
Call to action
Although achieving the Paris Agreement on climate change would improve air quality, diet and physical activity – saving millions of lives a year – most climate decision-making processes currently do not account for these health co-benefits and their economic valuation.  
Tedros underscored WHO's call for all countries to "commit to decisive action at COP26 to limit global warming to 1.5°C – not just because it's the right thing to do, but because it's in our own interests", and highlighted 10 priorities in the report to safeguard "the health of people and the planet that sustains us."
© UNICEF/Habibul Haque
Air pollution in Dhaka, Bangladesh, is leading to a series of health problems for the city's inhabitants.
Related
Dil Ke Armaan Jaghanya Ullu Web Series Episode, Review, Star Cast, Actress Real Name, Age, Images
It is quite interesting to watch the new web series of the ULLU App because it never leaves any chance to entertain everyone by showing some great stories. Yes, one more fascinating web series is on the way to amuse all the people all around the country. The title of the upcoming project of the ULLU App is Dil Ke Armaan Jaghanya.
We are here and bringing some great details for all the web series lovers. Every time, the ULLU App comes with some mind-blowing stories in which several romantic and lusty moments making the entire story much precious and exciting for the audience.
Dil Ke Armaan Jaghanya Ullu Web Series
Palang Tod Blackmail Ullu Web Series Episode, Review, Star Cast, Actress Real Name, Images
So, if we talk about the upcoming story then it is holding some great and amazing stars in pivotal roles. One of the most prominent stars who already appeared in several web series again going to heats up the intact environment by playing another bold and tempting role in this web series.
The makers of every web series selecting all the stars very well because they know that audience is always engaged with the stars and watch their performances in the lead roles. Recently, Ullu App released some great web series that collect lots of love and appreciation from the audience.
Dil Ke Armaan Jaghanya Episode, Review
Now, if we reveal the name of the star who portrayed the lead role then Mishti Basu is the one who heats the intact atmosphere by appearing in the lead role of this amazing web series. So, ULLU Original Dil Ke Armaan Jaghanya Star Cast featuring Mishti Basu in the main role.
Everyone knows that she has a very huge fan following because of her tempting acting skills and gorgeousness. Now, she is going to enhance the number of followers by appearing in the upcoming Ullu Web series.
Talking about the story of the web series then it revolves around a newly married couple. The trailer begins with the bride entering the house and then the next scene shows that the husband forcing her to fulfill his naughty desires. Not only this, but he also put his flaming cigarette on her shoulder.
The story takes another turn when a boy sees both of them while doing intimate sequences and then he also demands the wife to fulfill his desires as well. Now, what will happen next is quite exciting to watch. So, ULLU Original Dil Ke Armaan Jaghanya Web Series will be releasing on 12th October 2021 and everyone can watch all episodes only on Ullu App.