Our Limitless Love(A Riansh FF) Chapter:-64 – Telly Updates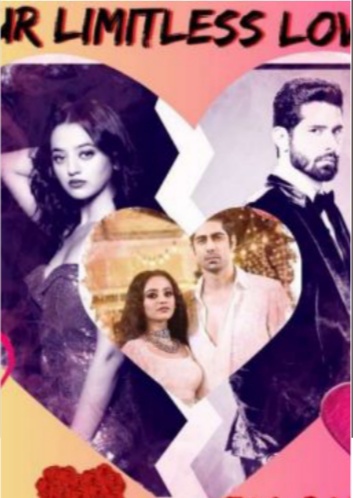 Chapter-64
Recap:-
Ridhima comes out of her headquarters and media encircles her and questions her about the case. Here vansh challenge that he will convince ridhima for marriage in next 4 days.. But ishani and sia backoff to help him. Now continue..
Now start:-


Ridhima woke nearly at 2 am,
Fixed her hairs into a messy bun and made her self a coffee.
Her pov,
Even vansh changed my leave into a shopping day!
Uggghh!
This man also irritates the very moment when I want to be all alone!
But I still love him,
His nonsense act couldn't tool over my love for him!
Btw, leave that!
I don't know what problem does Jai has with me ? why he always tries to defame me ?the case is mine? I am leading the case? what is his problem??
God knows from where this nonsense creature landed in my life. I was all happy now I think I shouldn't have came back to Mumbai .sometime I really feel I should run away from here .
well that is at another place….for now….I have to do my work!
Pov ends!
She takes her coffee and goes to her room and sets up some wires and connects some machines!
She works till dawn!
At last glance the clock it was showing 4 a.m. in the morning .
she told to herself "ok that's all for today! I want to sleep today or" I will take leave "
I will take leave today it will be fun! "
She quickly to cut the wires D attach them kept back the Machines at the proper places told the curtains and went back into the bed switching off the light she again drifted sleep!
Then at about 9 in the morning, she woke up!
Refreshed herself ,dressed up and came down in the hall ,picked up the newspaper from the door, greeted her guards . offered prayer to the God. went in the kitchen made herself a light breakfast sat down in a hall with the breakfast and phone in her hand!
It was nearly 12 o'clock she had already sent an email to the hospital receptionist that she will be on leave today. she was enjoying a herself being all alone and in her lavish Villa.
She planned to watch movie and be at home today but then she planned to surprise sejal by going to K R Mansion. so after taking her lunch she went to her Guards and told them:
R:- bhaiya, please take care that if anyone comes don't let him go in ,just call me. I'll be back here and yes don't let anyone enter my room and keep strict security!
Guard:- ji mam! (Ok mam)
Ridhima glared the guard!
Guard:- accha sorry, thik h betaa! ( ok I am sorry is it ok Beta? )
She passed a smile and sat into
the car.
She was driving when she realised that she had not even gift Sejal's her favourite flowers.
She decided to buy them and get it to her.
Ridhima's pov,
I am sure today you will be surprised. I know she will be shocked at first taht how come I surprised her but I can't overlook the friendship we shared for years .well ,well ,well let me purchase madam's favourite flower or she will first say at least you would have brought me my favourite flowers"
(After she bought them, while driving)
I don't know how I am going to solve this case but I am not getting good Vibes .I don't know how will I save her..I just hope he doesn't harm her .but though I have work hard ,destiny would be ready with some plans.
I really don't know what can happen. I just really don't want to to put anyone's life in danger because he is really dangerous .I don't want to lose anyone now . Ughhhh..leave riddhu…….live in present we will see what we have to do!
Pov ends!!
That's all for today, guys!!!!
Theories are most welcome,
I am really sorry for not posting for almost a month and well you know what happened with me but I think my story has lost its charm and I think I am liking somewhere I don't know I read sarah's comment everywhere wherever I am commenting.
@Sara ,
My dear I can't be too sure of completing hundred episodes because I have a limited story with me but there is the truth and it will take much episode I guess to unfold .so I can't assure you but I'll try to complete so .
Thank you, !!!
My dear readers thank you so much for remembering my story as I asked in my last episode and you're all asked that we to post this one .
yes, it took me time to get back on the track but I am here .
Thank you so much to all my readers who answered to my question ; asked should I continue with this one or not!

Someone asked me my wattpad Id…
Dear it is :- WriterAmyra05
Done!!!
Byee!
The post Our Limitless Love(A Riansh FF) Chapter:-64 appeared first on Telly Updates.
Arturo Garcia Accident Video What Was Arturo Garcia Cause of Death Texas Man Died In Fatal Crash
Unfortunately, here is another sudden demise has been reportedly found in the news. The dead person has been identified and his name is Arturo Garcia as per the information. He was a resident of Houston, Texas. He is currently in trend and people looking for the details about him.
He was 49 years old and died in a hit-and-run case. So let's discuss the death cause and various other details related to him. After knowing the news there are many people who came on social media and shared their condolence over the death.
Arturo Garcia Accident Video
As per the details, he got in trend and focused on the news after the fatal accident where he died. It was a major crash and you will get all the major information that you should know about him. The personal information of Arturo Garcia is not yet disclosed and it is yet to be disclosed by the investigators of this case. While other details are available related to death cause etc.
On the basis of available information, he has died after met with the accident where the fatal crash of the vehicle became the reason for his injuries and due to the major injuries he died on the spot. There is no update about he was admitted to the hospital or not.
What Was Arturo Garcia Cause of Death
Recently there was many accidents have been found in reports. Many people lost their lives in these fatal accidents. Possibly will make some traffic rules to control these accidents which will reduce the accidents in the country. Definitely, no one can fill his space in his family and his family will have to miss him. After knowing the death news people get disturbed and they shared condolence over the death. After seeing the social media posts you will see such massive.
Authorities Release Video in Search of Driver in Deadly Hit-And-Run in Pico Rivera Authorities sought public help Monday to find a hit-and-run driver responsible for the death of a man who was struck by a car while crossing a street in Pico Rivera. Arturo Garcia, 49, of Pico … pic.twitter.com/hYfZJP8Usq

— Punjabi Radio Los Angeles (@lapunjabiradio) June 23, 2020
A report has been issued by the official and according to them, he was hit by a Honda Civic that break the traffic rule and hit the man. After the accident, he died with several injuries. The culprit of this accident has not yet been caught by the police and there is no such update available right now. For further information, you can bookmark the website in your browser.
ZEE TV Sa Re Ga Ma Pa, 23rd October 2021 Full Episode Written Update Today Contestants Performances!
Finally, zee Tv is all set to serve the extremely entertaining season of 'SA RE GA MA PA'. It is a popular reality show of singing where many contestants come and compete for the trophy. Every time we have seen that the show became a witness of brilliant singing performances by the contestants.
Once again there are many contestants from various regions of India. We all going to enjoy the performance of these contestants. If you are also excited then stay with us in this article and be ready to watch the show at 9 pm on Saturday and Sunday.
Watch India's Best Dancer Season 2, 23rd October 2021 (IBD) Written Update Today Performances!
On social media the makers of this show has shared promo videos with caption such as "Apni bemisaal awaaz se har koi bhar raha hai sangeet ki udaan, jab aayenge yeh aapke saamne tab milega inhe apne suron se ek nayi pehchaan! 😍 Dekhiye Music ka sabse bada tyohaar". So now you can assume that how much you will get entertainment through the upcoming episode.
Here are various contestants as we already told you above. But in the latest episode, you will see the performance by Thupten Tsering who is also a contestant and after listing to his voice you will just fall down. He will sing a song 'Jab Koi Baat Bigad Jaaye'. Besides him, there are many other contestants available like Yumna Ajin who is from Malappuram Kerala.
The next contestant is from Lakhimpur Kheri, Uttar Pradesh. His name is Sachin Kumar and you will just be loved his voice. Even you can watch the promo on social media also. Where he is getting such massive popularity.
Now if we talk about the complete list of the SA RE GA MA PA. Then here is the complete list of the contestants who will perform in this season and compete for the winner trophy of the season. Some of the names we have discussed above and some are available here.
Now if we talk about Judges then you will see that there are some popular names on the jury. As per the details, in this season you will see Himesh Reshammiya, Vishal Dadlani and Shankar Mahadevan.
While the show will be hosted by popular and well entertaining personality Aditya Narayan. He is the son of the legendary singer of India Udit Narayan. For further news and updates related to this show bookmark the website in your browser.
Watch India's Best Dancer Season 2, 23rd October 2021 (IBD) Written Update Today Performances!
India has various reality shows available to entertain viewers all over the country. Today, we are going to talk about India's Best Dancer Season 2 as the show has recently kicked off to increase the enthusiasm among the interesting candidates from every corner of the country. The show collected positive reviews and high TRP from the beginning.
Everyone knows that the makers bring outstanding skills in dancing and hidden talent of India in front of everyone. Currently, the audition round is going on and many participants trying to fix their place in the show by giving their best performance on the biggest dancing stage of India.
India's Best Dancer Season 2 Written Update
The episode that will be going to air tonight will be great because the show holds some brilliant moments to entertain everyone. The judging panel is already perfect as Geeta Kapoor, Terence Lewis, and Malaika Arora holding the places. So, all the judges are perfect to give their best in the show.
Every time, they come together to the show, the environment becomes highly anticipated and worth watching. Their judgment makes every contestant perfect to hold the winning trophy of the season. Now, the audition rounds are going on very well and the show has already gotten some brilliant and outstanding participants.
The upcoming episode of India's Best Dancer Season 2 comes with some eye-catching and grasping performances. Several people from different places participate in the contest and show their best performance on the stage. But, the level of the competition already touched the peak from the beginning of the show.
India's Best Dancer Season 2 Performances
Tonight, a contestant named Liladhar joins the stage in a very great way. His friends come with him on the stage dancing on the song "Jhingat" and make the entire atmosphere quite interesting. Along with them, the host of the show Mannish Paul also joins the stage dancing with him.
In another promo, we can see that a fabulous dancer named Hardik Rawat performing on the famous song "Sajde". While he performing, judges can't able to move their eyes from him for a second as well. He locks everyone's eyes to watch his engaging and outstanding performance.
Some moves that he performs make the judges praise him with beautiful comments. Now, what will happen next in the show is a crux but we are sure that it will be exciting to watch. So, stay tuned with Sony Entertainment Television to watch India's Best Dancer Season 2 tonight at 8 PM.