Qismat~A SimRinder & RiAnsh Fanfic 'Prologue' – Telly Updates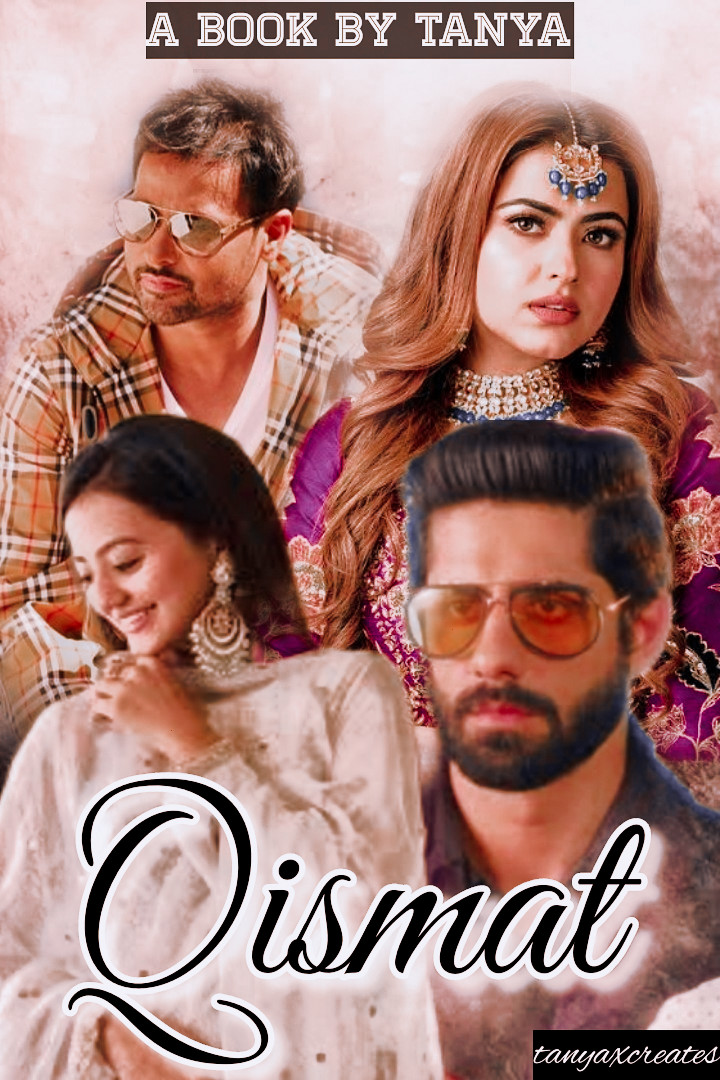 Hi guys here's the prologue of this FF I hope you'll will like it and the story too…
**********************
Riddhima:
Finally it's the day where I will be called as his official bride. Where he will be bind with me forever and ever. I got up from my seat and admired my self in the mirror I was wearing a beautiful skin coloured lehenga 'GORGEOUS AND BEAUTIFUL' I complimented my self seeing my figure wrapped in that beautiful skin lehenga gifted by my ANSH for our engagement.
Inayat:
Finally that day has came for which I was waiting from so long. Finally I will be his bride and to be wife officially. Now finally I will be in relationship with him officially. I smiled admiring my self in the mirror, I looked beautiful and hot wearing that beautiful purple coloured lehenga which is obviously gifted by my VANSH for our engagement.
************************
Vansh and Ansh were waiting for there brides to come sitting in the mandap. And here comes two beautiful Angels desending from heaven to the mandap wearing a beautiful red colored bridal lehenga, and face covered with veil with a shy smile on their faces.
****************************
Priest: Yeh vivaah sampaan hua, aur abb aap Charo pati aur patni hai 7 Janmo ke liye. Abb aap log apne bado kaa ashirwaad lijiye.
They got up and took blessings of every one, one by one.
************************
Uma: Beta Inayat aur Riddhima abb apna ghoonghat uthao..
She said to Inayat who was standing beside Vansh and Riddhima who was standing beside Ansh as the family thought.
******************************
Vansh: Riddhima Mehra oops Riddhima Vansh Raisinghania, mere saath jo tumne kiyaa hai naa uske liye tum abb Vansh Raisinghania ki nafrat dekhogi.
He said and pushed her on the bed and left from the room leaving her crying hugging her knees.
***************************
Ansh: Inayat Ansh Raisinghania, jo puri duniya ko lagta hai, par mere liye tum sirf ek dokha ho. Aur abb mujhe dokha dene ke liye tumhe Ansh Raisinghania ki nafrat seh Ni hogi.
He Said and left from there while she fell on her knees crying her heart out.
**********************
So I hope you'll liked the prologue do leave your reviews in the comment section about the prologue and your theories about the story…
THANKS FOR READING

.
YOUR AUTHOR
TANYA

The post Qismat~A SimRinder & RiAnsh Fanfic 'Prologue' appeared first on Telly Updates.
Barrister Babu, Latest Episode 13th October 2021 Written Update, Anirudhs's Brother Battuk Entry
The latest episode of Barrister Babu is creating a huge buzz among the fans and the show has been creating a huge fan following for the last few days since Anirudh came out from jail. In the latest episode of Barrister Babu, we will get to see many interesting things. As we have seen in the last episode that how Bondita saves her husband and she was honored by the community for her bravery and courage.
Anirudh also appreciated her for her bravery but Trilochan gets worried after thinking that everyone is greeting her not Anirudh. Trilochan said to Bihari Babu that everyone is appreciating Bondita and Anirudh is feeling troubled.
Along with this, we have also seen that how Bondita saves Anirudh's life after trapping Chandrachur. Later, Bondita and Anirudh come to the house and do greh parwesh. When they both come to their home, Trilochan stops them and says that he is giving Anirudh a stick and now, tying both of them in a ghatbandhan. Later, Sampoorna welcomes Anirdudh and Bondita into the house.
They both come in the house and Tupur feels upset. Bondita says to her that whatever happened with her, there is no mistake of her. Tupur says No, you can forgive me but I can't do myself. Thakuma says that Tupur, You don't need to apologize because this is not your fault, it was a fault of my education.
Thakuma says that the education is given to Bondita by Anirudh, maybe, I should have given it to you. Sumati asks Anirudh and Bondita to live forever like this. Sumati says to Bondita that don't forget to send her letters. Bondita asks her where she is going? Sumati says that Thkuma and I decided that when Anirudh will come back home, they both will go to Tirath. Thakuma says that until we come back, the responsibility of Tapur and Tupur is Anirudh.
Later, some people come to Anirudh's house to honor Bondita but Trilochan thinks that Anirudh is feeling bad. Anirudh greets Bondita and says well done Barrister Bondita. She says that Anirudh is only responsible for her education. Suddenly, the phone rings, and the entry of a new character in the serial shows.
A brother of Anirudh's Batuk is going to enter the house. Anirudh picks up the phone and says that why are you continuously calling. Battuk says that he wants to see his scary face and Roychowdhury's family is on the target of him. Anirudh says that if he will come in front of him, let's see, Anirudh will not burn, he will hug him in front of everyone.
Anirudh gets to know that he is none other than Batuk, who is living in Italy. Bondita sees Anirudh talking on phone and she snatch the telephone from Anirudh and asks Batuk that when he is coming back to meet her? Battuk gets angry after hearing the voice of Bondita. The Episode Ends.
Drew Bernstein Cause of Death Drew Bernstein Passed Away Death – Obituary, Age, Net Worth
Today, a dead body has been found on a remote path close to Laurel Canyon Park. Let us also tell you that the dead body has been identified as the originator of the troublemaker Goth clothing organization. The name of the person was Drew Bernstein who was 51 years old at the age and belongs from Los Angeles.
The police have been investigating the case and searching to find the main reason behind his death. Along with it, Lt. Fred Corral of the Los Angeles County coroner's office has been also said that he died from a self-caused shot injury.
Drew Bernstein Cause of Death
Let us also tell you that Bernstein also called Lippy because he established Lip Service in 1985. Later, he coordinates its design toward Gothic troublemaker, rock, and interest world. The news of his sudden death has been announced by Lip Service through Facebook page and then many people give their tribute to the personality.
His family members and close friends are actually very upset to hear about this tragic loss. Now, all the people who know him are mourning his demise because no one can expect that he left everyone so soon.
Drew Bernstein Death – Obituary
Talking about the post shared by Lip Service then the organization wrote "Yesterday we lost our originator and closest companion, Drew (also known as Lippy). He was a decent man who propelled everybody around him and there are insufficient words to communicate how profoundly he was cherished and will be remembered fondly".
Not only this, but several friends of Drew also shared their heartfelt messages and tribute to him because of his outstanding work to create the company very big in front of the entire world.
Today, uncounted people know about the company but very few people know about Drew who established it with his full spirit and dedication. Let us tell you that Fireman found Bernstein's body around 8:45 AM on Monday close to the 8300 square of Mulholland Drive.
After that, Los Angeles Police Department Sgt. Dave Cueto confirmed the news on Monday evening stated that the individual died from self-destruction with a self-caused shot injury. Many people paying tribute to him and the police have been investigating the case to find the actual cause behind Drew Bernstein's sudden death.
ICJ rules in favour of Somalia in Kenya border dispute – The Maravi Post
The World Court also known as the International Court of Justice (ICJ) has ruled largely in favour of Somalia in its dispute with Kenya, setting a sea boundary in part of the Indian Ocean.
The new boundary drawn by the International Court of Justice mostly followed a line proposed by Somalia, attributing to it several offshore oil blocks claimed by Kenya.
The court found that Kenya which did secure some territory beyond the Somalia proposal, had failed to prove there was an established sea boundary between the states, which would have given it a greater portion of the disputed territory.
Kenya previously accused the International Court of Justice of bias and said it will not accept the ruling. The case concerned a 38,000 sq mile (100,000 sq km) triangle in the Indian Ocean that is thought to be rich in oil and gas. The dispute has been at the heart of a diplomatic row between the two east African neighbours.
The revised maritime border along the exclusive economic zones for the continental shelves of Somalia and Kenya "achieves an equitable solution", Judge Joan Donoghue said.
The ruling comes after Nairobi last week said it had revoked recognition of the court's jurisdiction. No one for Kenya was officially present either in court or via video link.
Related