The Estranged Lovers (A bond of a lifetime- Episode 12) – Telly Updates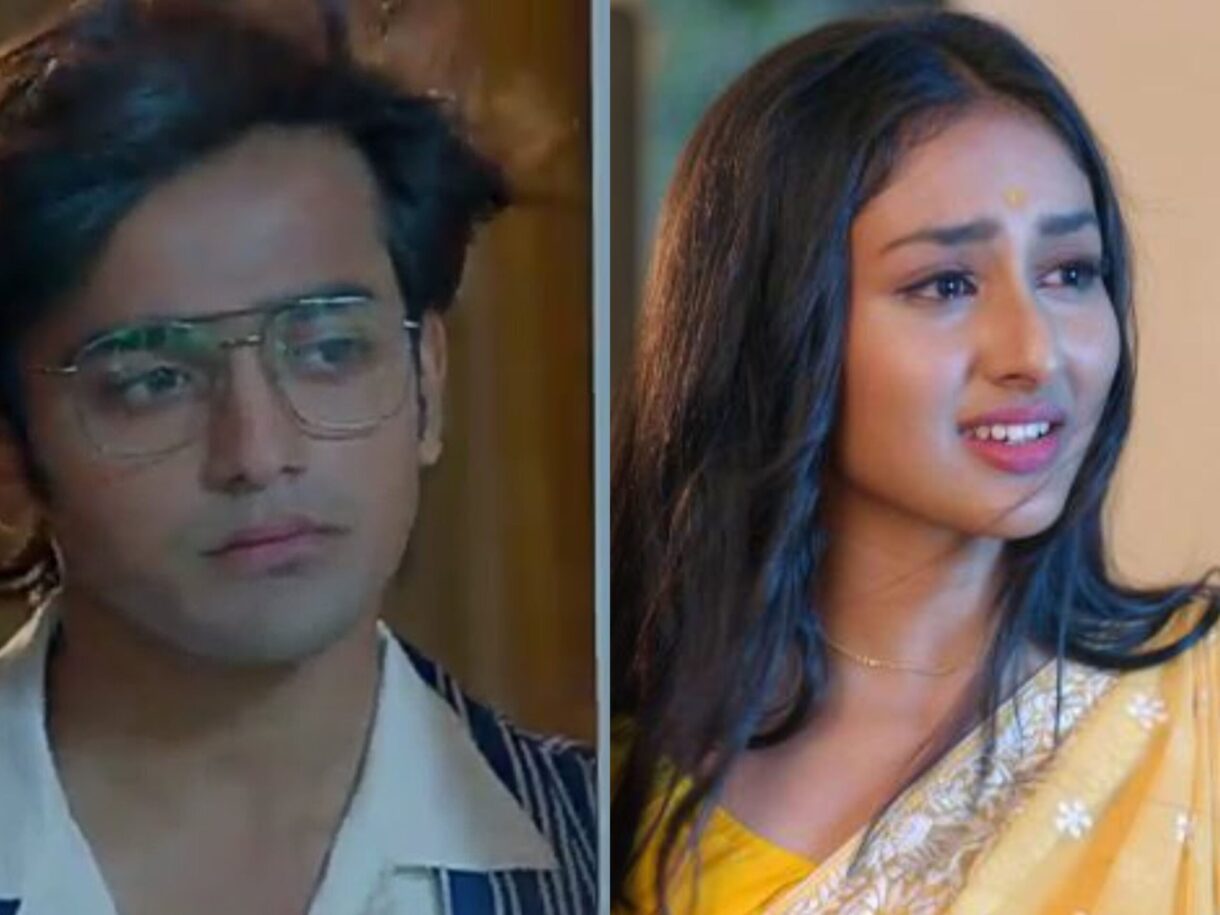 The next few days of interaction between Bondita and Anirudh were a bit awkward. To any onlooker, they seemed to play hide and seek with each other. Avoiding to meet one another, sometimes by coincidence, sometimes on purpose. "I am just busy with so many cases coming in." Bondita reasoned with herself one afternoon. "I am definitely not trying to avoid him." She tried giving herself a thousand explanations but nothing seemed fit. There were a million unspoken words but neither could muster up the courage to say it but it all changed one Wednesday afternoon.
Bondita had just returned from a hearing. The hearing had prolonged a bit so by the time, she reached the cafeteria for lunch, it was pretty deserted. Except for man sitting by the window with a cup of coffee in his hand, with his back turned to her. She could recognize that back in a crowd of thousands, not to mention an empty cafeteria. She was quietly debating whether to turn around and walk out when she perceived his voice. "We are barristers after all, Bondita. Isn't everybody entitled for a chance to be heard?" His voice sounded weak and frail as if each word he had uttered was a mirror of his pain and inner conflict. 'How did you know it was me?' she had wanted to ask, but stopped knowing it was stupid to do so. If she could recognize his back, he too would have recognized the tinkle of her anklets. It had relationship of 10 years after all. Was it his solitude silhouette or the pain in his voice, she had no clue but soon Bondita found herself answering "5 pm at the coffee house by the court. I will be waiting, Barrister Anirudh."
She immediately turned and walked out without noticing the unshakable man's back tremble a bit as he finally shed the tears, that had been threatening to fall for long time. Wiping his tears, Anirudh stood up with a sigh and he too walked out with a thought 'What have we become, Bondita?'
"Finally, its 4:45. I need to leave early to reach on time." Anirudh said, while jumping up from his seat after having stared the clock since the last 2 hrs. 'Let's just calm down, Anirudh' he thought as he set off 15 mins early for a coffee house which was right next door. Anirudh walked with an air of building up his courage. But it all melted way, the moment he saw her through the glass window of the coffee house. It was cloudy day with rain threatening to fall any moment. However, a few rays of sunshine behind those clouds had made their way to meet the earth through little gap in between them. One such ray was falling on her face as she sat there waiting for him. Anirudh always had little belief in ritual and religion but at the moment, he felt that he was just graced by God's most precious scenery in front of him. He could go on and on describing her beauty. If she was considered quite good looking generally, at the moment, she had looked like a goddess who was…. waving at him? He snapped back into reality as he saw Bondita acknowledged his presence by a formal wave. 'Did she catch me staring at her? O god, I messed up before even meeting her' was the very thought with which he rushed to meet her. So much for "building up courage."
Exactly half an hour had passed, in which a lot of things had happened. He had apologized, confessed, shed a few tears and had repeated the same cycle again multiple times without a break. Anirudh finally paused and looked up to his listener, who sat there without saying a word, with a silent and calm demeanour while looking out at the pouring rain, which had started some time ago. The silence enveloped them gradually, as they sat face to face so close yet so far. "Are you still mad at me? Do you still love me?" Anirudh questioned in a small voice. He was in terrible pain on the inside and this deafening silence wasn't helping.
"It's just" she finally spoke, with her eyes still stuck on the rain. "I just feel it's a bit surreal." she gently turned to look at a confused Anirudh with a faint smile. "Everything that I had once adored is suddenly in front of me. The first rain of the season in which we had promised to get drenched together, the sudden shower which had brought out my long-buried feelings for you, the coffee which got me addicted to itself just because it reminded me of you and my countless fantasies of you confessing your love to me. I had desired of these experiences for so long yet now that my dreams are shaping into reality, right in front of me, I feel nothing but a void."
Though the coffee house had turned really full with people seeking shelter from the sudden rain, Anirudh heard and knew nothing. All he was aware of was that his beloved was hurt. Very hurt. And he was the reason of her pain. Bondita let out a bitter smile, while managing to prevent the tears from falling off her already glistened eyes. "I had sat just like this, in the centre of my group of friends, for the past few years, as I had boasted about my husband, the man I loved. The Fearless and Bold Anirudh Roy Chowdhary who was never afraid to speak against what was wrong, who was my Shikshak babu, my Rakshas as well as Rakshak babu. Without a pause, I had brushed of the possibility of him changing with the years, as suggested by a friend, but oh god, how wrong I was" She paused as she lightly choked on her tears. Her tone changed a bit, as she brought herself under control and commenced with finality in her voice.
"Now onto your questions, Am I mad at you? No, certainly not. It was my fault to have such impossible expectations of you staying the same forever, but as you know, I have always been a bit naive in such matters. The second question: Do I still love you? Unfortunately, yes but if I accept you today, I will love myself a little less."
The post The Estranged Lovers (A bond of a lifetime- Episode 12) appeared first on Telly Updates.
Pascal Affi N'Guessan : "The Ivorian Popular Front has turned the page" – The Maravi Post
Pascal Affi N'Guessan, former Prime Minister of Côte d'Ivoire (October 27, 2000 – February 10, 2003), President of the Ivorian Popular Front and Member of Parliament for Bongouanou-Sous-Préfecture, is in Lyon, France, to participate in a meeting of the International Association of Francophone Regions.
Invited to this General Assembly as a regional deputy, he tells us more about the missions of the AIRF for Côte d'Ivoire as well as the news of his political party in full mutation.
Pascale-Mahé Keingna: You responded to the invitation of Laurent Wauquiez, president of the AIRF, what are the concrete missions of the International Association of French-speaking Regions for Côte d'Ivoire today?
Pascal Affi N'Guessan: I responded to this invitation as president of the Moronou region. This organization brings together a group of French-speaking regions. It is a platform for experiences, pooling of resources and reflection on the future and cooperation of French-speaking countries in Africa and elsewhere …
Currently, for example, a contract has been signed between the Ministry of Hydraulics in Côte d'Ivoire and the region to finance support for the policy of hydraulics in Côte d'Ivoire, including the establishment of a network of observation of the flow of rivers. With global warming, it is always necessary to anticipate, to have statistics on the evolution of water flow so as to be able to plan the implementation of infrastructures, collection, production and distribution of water.
– I imagine that these issues are part of the subjects that are important to you as a Member of Parliament. You chose to boycott the presidential election for which you were a candidate in December 2020, and then you finally participated in the legislative elections by joining forces with other opposition parties. What about this alliance today?
It is an alliance that was built in haste, we had concluded a circumstantial alliance, with the UDPCI, the COJEP, the platform AGIR so as to try to go together but it was improvisation and we could not get the results we expected.
– Do you understand that it can be difficult for Ivorians to follow what is going on with these comings and goings and alliances that are being undone?
No, it is a matter of political cartography, because Ivorians are scattered among the different political parties, that the configuration is such as it is. The political parties are led to gather and try to conclude alliances, and as these alliances are more electoral than ideological, they are undone according to the circumstances and the interests of each other.
An alliance can be ideological, that is to say "we share common values and we put ourselves together to build an alternative", at this moment this alliance can be solid because there is at the base the adhesion to the same values and to a political project that we can formulate together.
For the moment in Côte d'Ivoire, this ideological alliance does not yet exist.
– Since 2014, the FPI is divided. Today the former president of the Ivorian People's Front, former Ivorian President Laurent Gbagbo has acted on this separation by announcing that he will create a new political party. How do you explain this separation?
I think he is in the best position to explain it, personally I do not explain it to myself, because objectively, rationally, I do not understand the logic of this separation. But we have taken note of it, we have turned the page and I am happy because the vast majority of the militants have remained faithful to the party, to the struggle and to the history of the Ivorian Popular Front and are still mobilized so that in 2025 we have a chance to return to power.
– How do you see the future of the FPI?
PAN: The future of the party in any case is not linked to the birth of a political party, our future is linked to our ability to speak to our compatriots. Today we are continuing to consolidate the establishment of our party, and we will check the state of progress on the occasion of the congress that will take place on November 13 (exceptional congress of the FPI), and then we will deploy ourselves to better publicize our social project, to be more attentive to the concerns of Ivorians, to make concrete proposals on how we see the resolution of the problems facing the country.
How we see the issue of national reconciliation, a fundamental issue. A responsible party that has challenges to face and adversities to overcome but that remains committed to the democratic process in peace and stability.
Related
Displaced in northeast Nigeria 'knocking on door of starvation': WFP – The Maravi Post
The alert follows years of insecurity linked to non-State armed groups that have disrupted livelihoods and forced hundreds of thousands of people to flee in search of shelter. 
More than one million children are already malnourished, according to WFP spokesperson Tomson Phiri. 
🚨 NEWS ALERT ‼️

More than half a million people in north-eastern #Nigeria face ration cuts unless urgent funding is secured. The cuts would come just as severe hunger reaches a five-year high in the country.

Full release👇https://t.co/io97JoCMQm

— WFP Canada (@WFP_Canada) October 15, 2021
He told journalists in Geneva that the agency may have to cut rations to more than half a million women, men and children in northeastern Nigeria by the end of the month, unless at least $55 million in new funding is found.  
"We are facing very severe levels of hunger that we have witnessed since, this is probably the highest that we are witnessing since the crisis exploded in 2016. Approximately 4.4 million people are facing acute food insecurity in the conflict-affected states of Borno, Adamawa and Yobe." 
Deciding who eats 
Mr. Phiri said that COVID-19 had pushed up food prices and limited food supply, and that the number of internally displaced people surpassed two million in September – reaching another grim milestone. 
Amidst the socio-economic fallout from COVID-19, high food prices and limited food supply, WFP's Regional Director for West Africa Chris Nikoi observed during a recent visit that "cutting rations means choosing who gets to eat and who goes to bed hungry".  
"We are seeing funding for our life-saving humanitarian work dry up just at the time when hunger is at its most severe", he warned, reminding that WFP's food assistance is "a lifeline for millions whose lives have been upended by conflict and have almost nothing to survive on".  
Feeding people in search of safety 
The number of people forced to flee their homes searching for safety in northeast Nigeria has been rising steadily. 
"Cutting food assistance will be a painful decision for humanitarians as it will negatively affect children, women and men uprooted from their homes due to continued violence" said Edward Kallon, UN Humanitarian Coordinator in Nigeria, calling on partners to "step up" support in response to the growing needs. 
Keep lifeline flowing 
For five years, WFP has been providing life-saving food and nutrition assistance to the severely food insecure, displaced families in camps, and to vulnerable people living in host communities. 
This year, relying on the continued generosity of donor partners, WFP ramped up its response to address rising food insecurity and the impact of COVID-19, targeting 1.9 million displaced people in the country.  
However, to sustain humanitarian operations in northeast Nigeria until March 2022, WFP urgently needs $197 million. 
"We must act now to save lives and avoid disruptions to this lifeline", Regional Director Nikoi said. 
Related
RM vs PAN Live Score Dream11 Prediction Lineup Squads Euro League Real Madrid vs Panathinaikos
The next scheduled match in EuroLeague will take place between two exceptional teams. Yes, Real Madrid and Panathinaikos would be locking horns with one another in the upcoming fixture. The match will be played on October 16, 2021, at 12:30 AM IST. No doubt, the fans are excited to watch the game as both the teams happen to be brilliant in their own gameplay and consist of impressive strategy.
It would be really interesting to see which team emerge out as the ultimate winner in the end. Let's check RM VS PAN Dream11 Prediction, Playing V and other match details.
RM vs PAN Live Score
With the participation of a total of 18 clubs, the league is witnessing some jaw-dropping matches. Currently, Barcelona has topped the standing table with more than 176 points while Baskonia is sitting at the bottom table with only 153 points to their sides.
Talking about participating teams for today's match, Real Madrid has managed to occupy 8th place in the standing which is not that disappointing considering the last spot being eighteenth. The club has appeared in 2 matches in which they could only attain victory once while was defeated badly by their rival team in another match.
Match- RM vs PAN
League- Euro League
Date- October 16, 2021
Time- 12:30 AM IST
Real Madrid played a final match against Monaco on Oct 14 where they managed to beat the team and collected the golden points in their account. Earlier, they faced team Valencia which was scheduled on Sunday, Oct 10.
Giving an impressive performance, the team managed to defeat them as well and come out as the winner. On another side, we have Panathinaikos who can be seen covering the 11th position at the standing table. The team has also played 2 matches so far and owns 162 points to their side.
Real Madrid (RM): Nicolas Laprovittola, Gabriel Deck, Walter Tavares, Anthony Randolph, Jaycee Carroll
Panathinaikos (PAN): Nemanja Nedovic, Lefteris Bochridis, Ioannis Papapetrou, Georgios Papagiannis, Konstantinos Mitoglou,
Just like Real Madrid, Panathinaikos also happens to have the same number of victory and defeated matches. They have delivered an impressive performance regardless of their current position. They also had a final match against Baskonia. However, PAN couldn't beat their opponent team in the match scheduled on Oct 13.
Prior to this match, they clashed against Fenerbahce where they managed to conquer their collected points as well. Now, RM and PAN are all set to face each other and give a tough competition. Dream11 Prediction for today's match would be for team Real Madrid. Stay tuned with us for more updates on the match.